Swimming snakes, morning shots and superman cyclists
We're almost halfway through July, 2019.
Halfway through a month of exploring all that Montenegro has to offer.
So far we've been pulled over by police twice, once for going 10km over the 80km limit as we drove away from the airport on day one with not a clue about highway speed limits and not a traffic sign to be seen. The 20 euro fine is collected by road side Eftpos machine with a toothy, jovial smile and some friendly jokes about kangaroos and us being lost so far from home. And once, to have a large friendly Balkan officer lean through the window to wish us a happy day and wave us on our way. That's all. Nothing to see here folks.
We've hiked the picturesque Mrtvica Canyon on a rocky and at times dangerously narrow path rising to 1000 metres above the winding ice cold turquoise waters of the Moraca river, indulged in the countries ultimate comfort food kacamak, a creamy decadent extravaganza of polenta, potatoes and cheesy mush, and sampled numerous shots of the popular and potent (47% alcohol) fruit brandy Rakija, which locals offer liberally as a gesture which can mean welcome, hello, nice to meet you, now we're best friends, let's have an after dinner digestif and/or the night is definitely not over until we have just one more…
We've fought over my "irrational' fear response to taking the "hiking trail less travelled" and decided on some very clear marriage saving boundaries around "his', "hers' and "theirs" kinds of adventures.
We don't know it yet but in a few days we will rescue a tiny straggly, so very sick, abandoned kitten from the road in the beachside town of Ulcinj, and smuggle her (Lily) into our airbnb bed with the intention of giving her love and comfort for her last night on Earth. Lily surprises us by surviving 5 more days, rallying briefly, but after a valiant and brave struggle, and despite the help of our dear friend Kseniya and several vets, she takes her last rasping breath and we bury her with tears, overlooking the ocean on a pine covered hillside as a white dove flies overhead.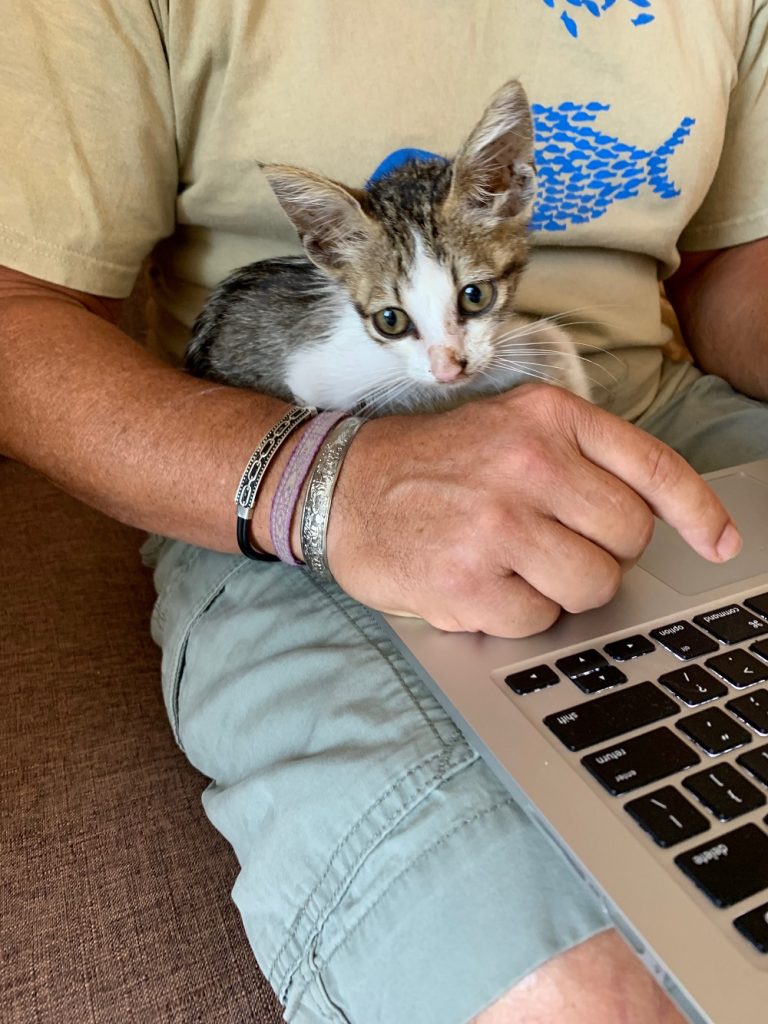 But those are stories for another day.
Today, we have arrived at Prevalis Nature Cottage and family vineyard. In a country where prices are considerably lower than most of the rest of Europe Prevalis is our "splurge stay".
Just a few minutes drive from the shores of Skadar Lake, the largest lake in Southern Europe and a thriving habitat for a cornucopia of wildlife.
The Durisic family, with current inhabitants Branko, Vesna, Marko and Marina, has lived in the region for more than 500 years and the estate has been passed from generation to generation through the centuries. Spread over an area of 5000 m2 with interconnecting terraces linked by stone pathways the property is abundant with fruit trees, organic vegetables, a fresh water spring and of course lush rows of grapevines comprising the family vineyard.
Built in traditional style the two storey family home is painted in a soft apricot with white stone accents and nestles into the embrace of the scrub forested mountain which rises behind.
We pull into the small gravel carpark and son Marko greets us with a wide smile. Long and lanky, with kind brown eyes and in his late twenties, he's wearing a stripy T shirt and patterned board shorts and instantly captures our hearts with his warmth and authenticity. We're not travelling light as this is a four and a half month trip around Europe in total (with art supplies for the four workshops and retreats scheduled along the way!) and I'm a little anxious about getting all of our stuff up to the newly built cottage. I needn't have worried though as Marko jumps in and helps with gusto, and in no time we've met the family dogs, cuddled with several ginger kitties, lugged the luggage up the hill and are inside marvelling at the beautifully decorated space, the comfy furniture and the gorgeous views! He has definitely created something magical with this charming hillside cottage that is to be our home for the next three days.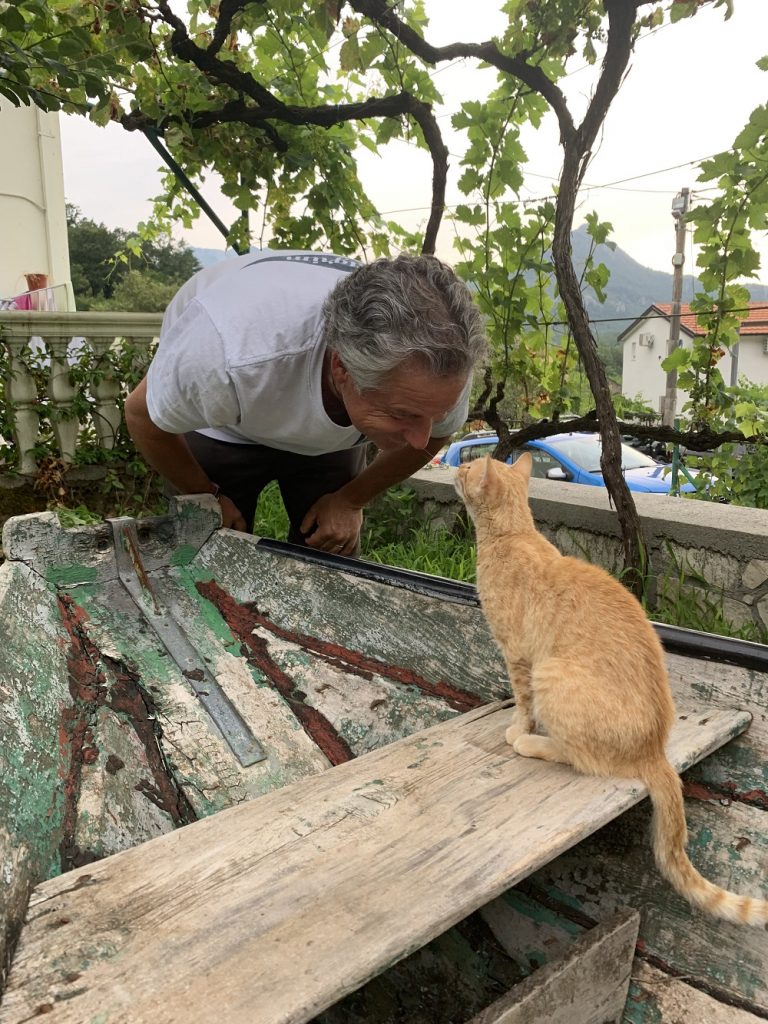 Marko has promised us delicious organic farm to table produce, his mother's famous smoked carp, two different guided adventures; one by road and one by water, spectacular sunsets from our hillside cottage deck and of course the tasty delight of the families excellent vino! He delivers amazingly on every promise!
On the morning of our mystery road trip we set off after breakfast, excited by the freedom of not actually knowing anything about the day ahead. It feels good to have someone else at the helm and we are excited for an adventure to unfold.
Crossing over the one lane medieval arch stone bridge we drive out of the quaint lakeside town of Virpazar and Marko begins to tell us the stories and history of the towns and villages we pass. Like many Montenegrins he is proud, resilient and also philosophical about the tumultuous history of this small nation. He also has a fun sense of humour and a passion for community and humanity. We bond quickly.
Montenegro means Black Mountain and the landscape is sprinkled liberally with them. Around 80% of the country is covered in mountains and with the average altitude around 2000 metres this is considered some of the most rugged mountain terrain in Europe. My husband Marco, (on good days referred to as mi amor) part mountain goat and intrepid adventurer is in seventh heaven. Luckily the country also boasts some of the most idyllic beaches in Europe so there are ample happy dances for my mermaid spirit also.
At around 10am we pull into the sleepy, almost deserted village of Žabljak Crnojevića the home of an abandoned  medieval city and fortress founded in the tenth century, and last occupied by the Ottomans for 400 years until 1878 when a small group of a dozen or so Montenegrins recaptured the city.
We park the car and climb the small hill up towards the ruined fort passing by a friendly man who has set up a makeshift refreshment stop on his rooftop, comprised of a few plastic tables and chairs, a large umbrella, and an ice cream fridge. He waves to us and offers us a shot of Rakija to warm our blood and give us the stamina to continue our climb. We wave back and tell him we'll see him on the way back down for a cool drink.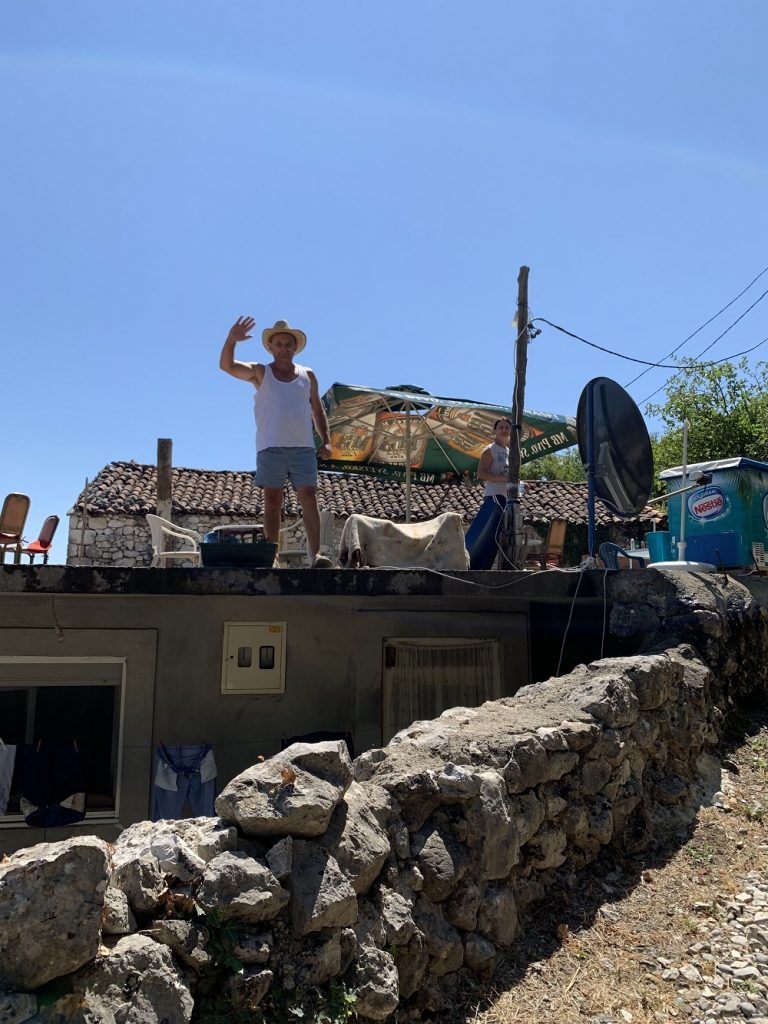 The ruins are in disrepair and feel neglected but I'm awed by the way that the remaining doorways, stairwell and window openings frame the exquisite views of the lake, foliage and blue, blue sky. I wonder at the countless lives and footsteps that have walked these stones before me.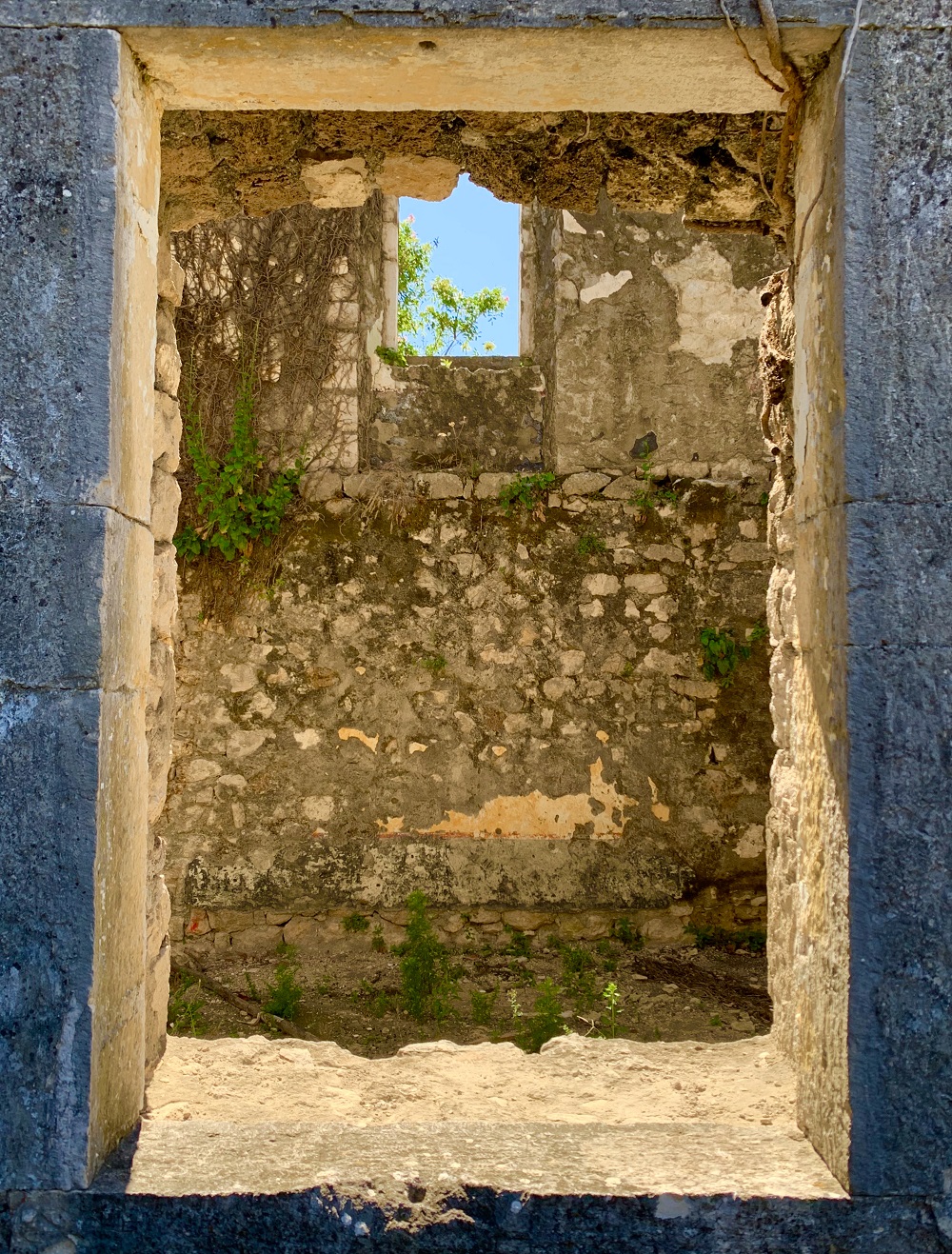 We stop to visit our new friend on the way back down, pulling up a plastic chair on his concrete roof and ordering some cokes. He seems a happy go lucky kind of guy but this could also be a result of the early start on the Rajika. He doesn't seem to want to take no for an answer, and perhaps its rude to refuse so in no time at all both Marco and Marko are also sipping on a small glass of pear brandy in the hot sun. I'm not offered one this time, and I'm equal parts relieved and offended as I sip forlornly on my coke, thinking it's probably for the better if I don't get sloshed before lunch.
The weather continues to warm up, now around 28 degrees Celcius and we are keen for a swim. We drive another 20 minutes or so through the countryside and pull up to a ramshackle timber restaurant in the middle of nowhere, it's lazy covered decks providing shade from the heat and easy jumping access to the river that runs beside it. the restaurant is empty except for us and the disinterested young employee seems to be having his own house party with music blaring from the speakers overhead. Marko offers to film us jumping from the rickety timber bridge just a few metres away. With a couple of platforms at different heights maybe 3-5 metres above the water, and an equally rickety "one two miss a few rungs" ladder to get up to them, I'm not overly enthusiastic but I've bailed out of several other adventures over the past two weeks, letting my fear get the better of me, and so I take a deep breath and will myself to go through with this one.
"Let me just climb the ladder myself and see how it feels at the top" I tell the guys, hyperventilating only in the tiniest of ways. "Don't pressure me", I warn my Marco with a sharp sideways glance. He should know the look after 34 years. The water is green and kind of murky, a far cry from the transparent azure waters of the coast we've been enjoying over the past week. And for a bit of context… I'm a 53 year old woman in a bikini because European women wear whatever the heck they want to the beach and I've decided that I can too.
Marco doesn't give me a chance, catapulting himself up the ladder after me. Without a minute to think we hold hands, count to three and launch ourselves into the air. I hit the water with a slam. Half the river goes up my nose and I have to spend a minute extricating my bikini bottom from my nether regions and popping one boob back into its appropriate sheath of fabric, but I did it! Did a brave thing! Woohoo!
We spend a few more minutes splashing and swimming, then grab a soda and relax again on the deck. Fish of various shapes and sizes swim by, sun hitting their scales in rainbow prisms, and then out of nowhere a graceful 3 foot long brown snake delicately winds its way through the water right below us, head breaking the surface, tongue darting, beady eyes blinking. I decide that one swim is enough for the day.
On the way to Rijeka Crnojevića via the 25 winding serpentine bends of the Old Austro-Hungarian road, we stop at the edge to breathe in a stunning panoramic view as the Tsrnoyevicha river gracefully loops around a verdant pyramid shaped hill rising from the shimmering green flats of the river bank. It is absolutely breathtaking!
Someone has dropped a perfect white bloom on the road and I pick it up to photograph. Beauty upon beauty.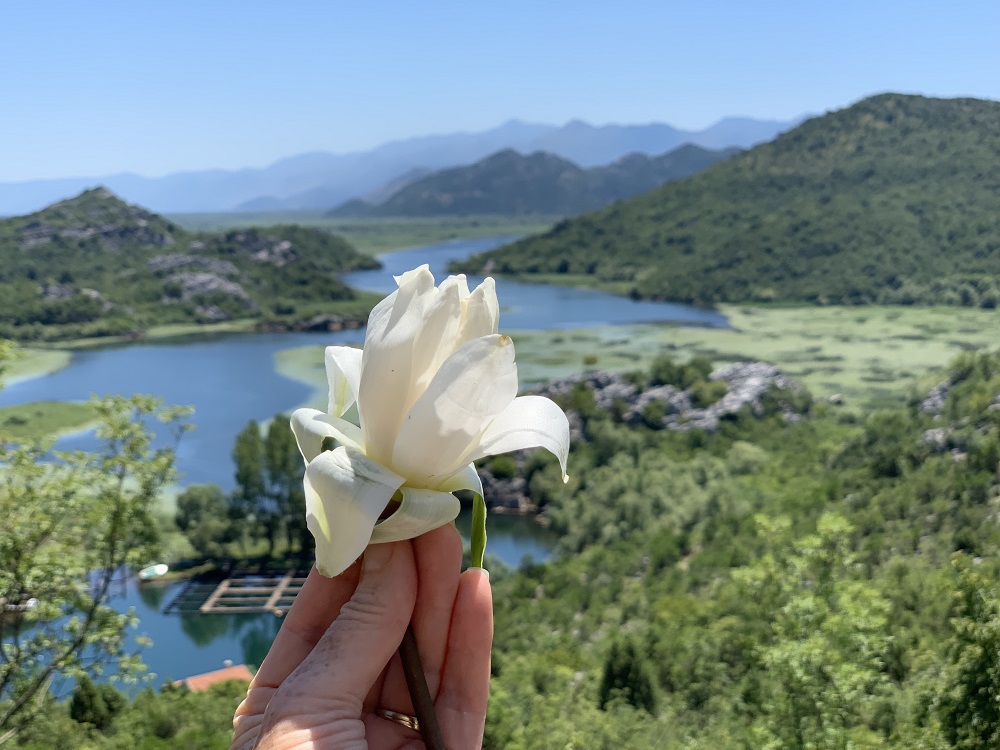 Soon we are sitting by the river feasting on local produce, cured meats and cheeses at Marko's cousin's restaurant. We stroll around the largely abandoned town after lunch and learn more about the history.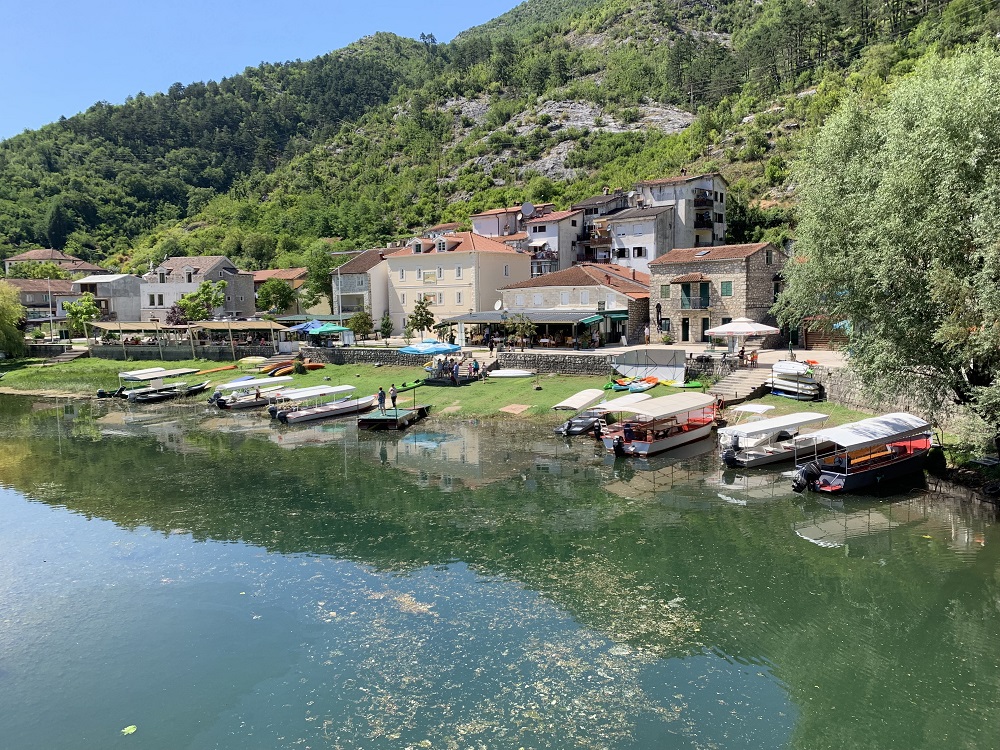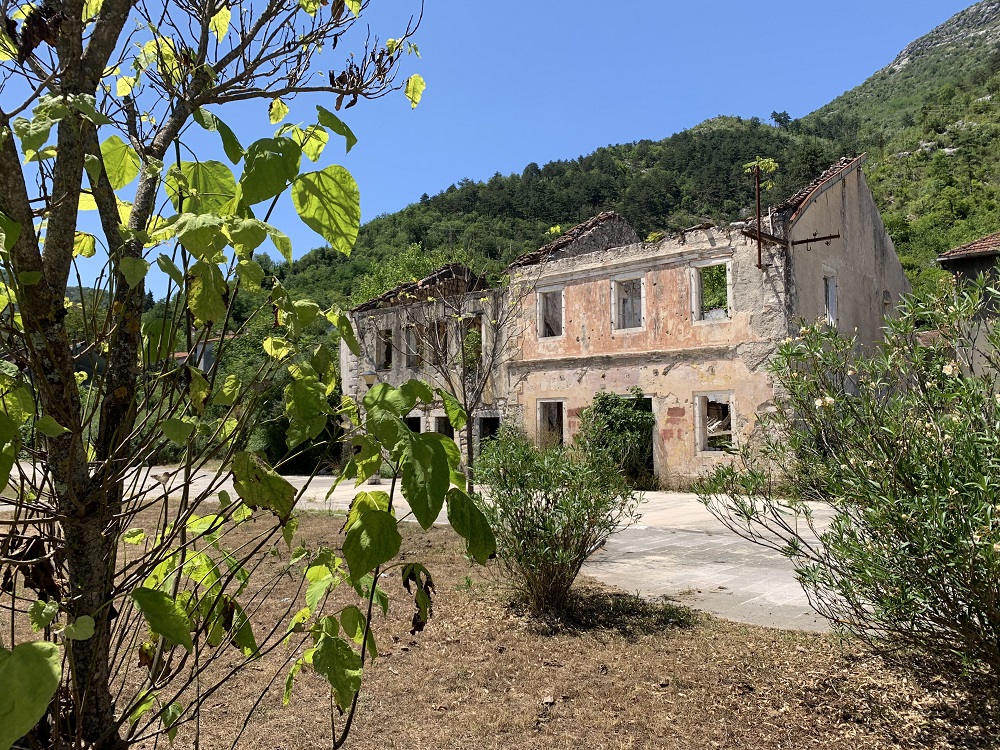 Satiated with food and a little sleepy from a lunchtime beer, Marko tries to convince us that we should hike an hour or so down (and back up) to another village on the way back to Prevalis. A nap feels like a much more sensible idea so we strike a deal to continue our adventure and hike the next morning.
Our trip home is punctuated with a dramatic pause as we pull up to an unfolding scene. Several cars are stopped and blocking the narrow mountainous road, one of them, a rental car with a tourist driving, has a smashed windscreen. On the edge of the road lies a bicycle, buckled and broken. Faces are etched with concern. For a second we fear someone has gone over the edge.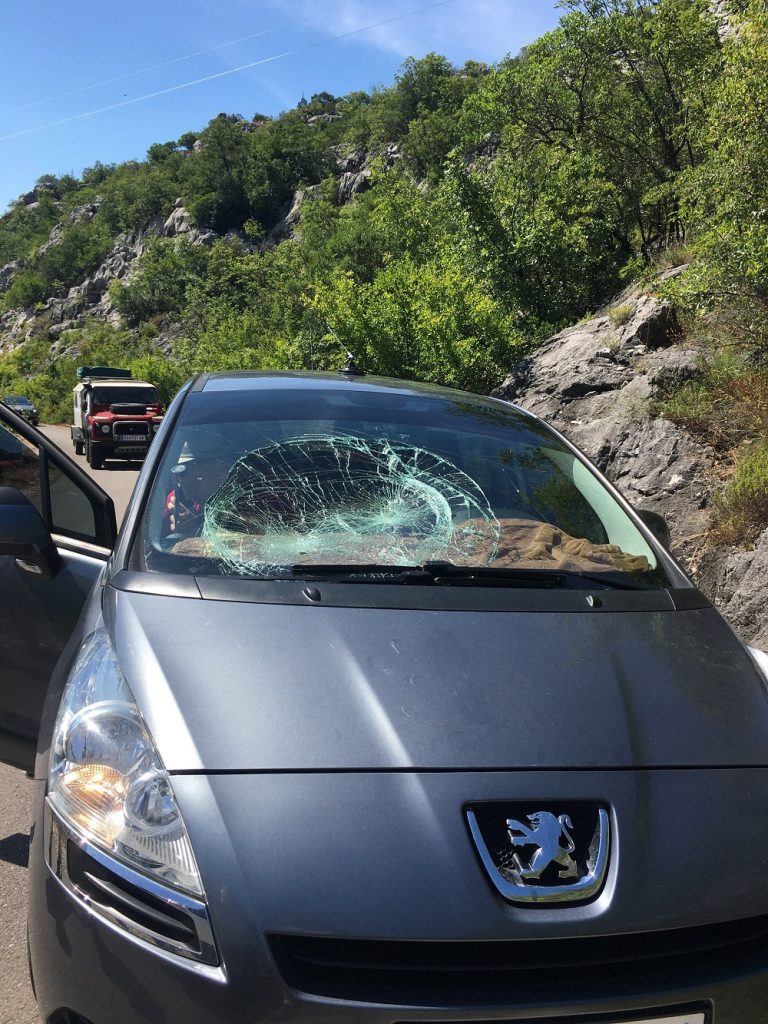 Marko gets out of the car to find out what has happened. He talks to a stocky and sweaty 60 something Montenegrin man in a red singlet. As I look more closely I see his face and limbs have cuts and scratches and it soon becomes apparent that he has had a head on collision with the car and then been thrown into the windscreen and is now remarkably standing by the side of the road trying to convince everyone that he is fine and not to worry about calling the police. Marko calls anyway. It seems the right thing to do but the police don't seem that interested and cant really give an indication of when they might get there. Perhaps they're too busy elsewhere handing out speeding tickets and wishing tourists "Good day!"
After several minutes of gesticulating arms and frustrated tones, the lucky cyclist picks up his ruined bicycle and throws it with a dramatic flourish over the side of the cliff. We watch it bounce across the rocks but lose sight of it before it hits the bottom.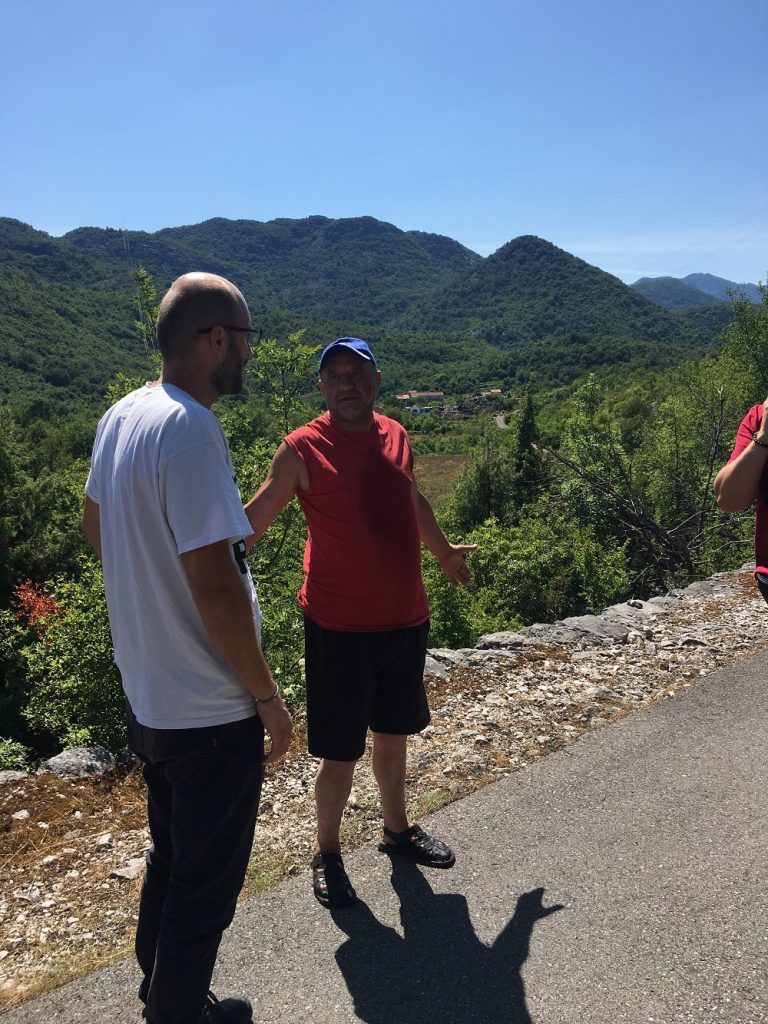 Much to the relief of the tourist driving the other car the cyclist climbs into Marko's car and we give him a lift home. He's had a rough afternoon and just wants to get home to his wife he says. I can't say I blame him.
On the way back it's getting late but we pass the tiny village that we will return to hike to tomorrow, far down in the valley below.
Soon we are on our deck, the evening temperatures have lowered to the perfect outdoor dining weather and we sip a glass of delicious Durisic family red wine and feast on delicious smoked carp and fresh veggies as the sun slips down beyond the mountains. Feeling grateful, mellow we take in the wonder of the changing sky and wind down towards our dreams.