One look inside my wardrobe and around our home will let you know that pattern, color and texture are three of my favourite things!!
Maybe you get a little excited about the same three things?
Join me in this fun six lesson online art course to learn a diverse array of approaches and techniques, to explore tantalising textures, vibrant color and playful patterns! I've created these video tutorials to spark your creativity, activate your imagination, and give you the tools to make brave and unique moves with your art!
Do you find yourself getting overwhelmed, unable to make the next move in your paintings for fear of ruining it all?
Want to loosen up and really begin to feel confident with your creative choices?
Are you ready to learn to layer with sass and allow yourself to be okay with learning curves and making mistakes because you KNOW that THIS is how you will improve?
If you're looking for a fun class to help you become a more relaxed artist, to help you see the possibilities even in the ones that don't work out, this one is for you!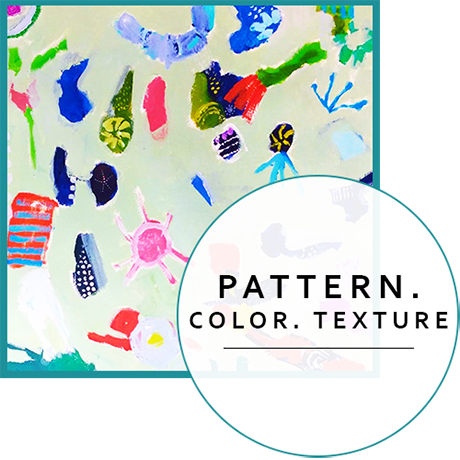 Pattern Color Texture~ For just $65 you will receive approx 4 hours of video (plus additional notes) covering six diverse projects, yours to keep forever and revisit as many times as you wish!
"I had so much fun playing! Thank you Tracy Verdugo for helping me out of my comfort zone! I LOVE, LOVE, LOVE the process."
What will you be creating?
Here are just some of the lessons!
Frequently Asked Questions
We don't want you stressing too much about the supplies for this course. Many lessons can be adapted to be worked with whatever you have at hand. That being said, here are a few things Tracy uses throughout these lessons:
Please note that for most exercises you will be able to work with what you already have at hand and that it is not absolutely necessary for you to run out and purchase it all.
Substrates:

Plywood: 30 by 30. A pad of
Watercolour paper (I used Strathmore 140 pounds , 18 inches by 20 inches)
Canvas: 30″ by 30″ (76cm by 76cm).

Feel free to work on whatever you have lying around; mixed media, sketch paper etc as these projects will lend themselves to many surfaces.

Regular cartridge paper or any old sketchbook for practicing ink techniques
Scratch foam board for creating stamp ( Optional- you can also use any stamps or stencils you already have )
Piece of  brown cartridge/wrapping paper
Some different types of paper for collaging; try national geographic image, scrapbooking textured paper, patterned serviettes

White gel pen
Various brushes:

A wide flat brush
Watercolour brush (no.11)
White nylon big brush
Bamboo skewers

Kneedable eraser
FW Daler Rowney acrylic Ink  29.5ml 1oz:

White and various colours
My latest faves are flame orange, antelope brown, paynes grey, marine blue, burnt umber, olive green, prussian blue,  silver moss, scarlet lake, sepia  but really I LOVE them all!

Golden Fluid Acrylic paints

My faves ~pthalo turquoise, green gold,  Quinacridone magenta, paynes grey, pyrole orange, Quinacridone nickel azo gold, cobalt violet.

Oil paints ( optional)
Gold oil pastel stick
Collage ephemera
Rock salt
Rubbing alcohol
White gesso
Heavy bodied acrylic white and heavy bodied acrylics in the primary colors; Yellow, red and blue.
View finder; made by cutting two L-shapes into paper or cardboard
Wax medium (I use the brand Dorlands')
Baby wipes and a roll of paper towel.
Roller, Old brushes, gauze and various found objects for creating mark making tools.
Stabilo pencil Derwent watercolour pencils
Piece of thick charcoal White oil pastel & white chalk
Notes for each project will include suggested brands and types of supplies used.
How long do I have access to this course?
You can purchase these classes at any point in time as as a self-paced class. Once purchased, all lessons will be yours forever! The videos are downloadable for offline browsing or you can stream via our class website.
Are there captions/subtitles?
Yes! The videos in this online course currently have English captions and Spanish subtitles.
Is this course suitable for any level?
Absolutely!! I have been teaching my in person and online classes around the world for the past nine years! Both beginners and more experienced painters have enjoyed epiphanies in creative process, shifted perspectives and enjoyed learning new techniques. Mostly though I have come to realize that what I am teaching is about how to see the creative possibilities inherent in every moment and then to learn ways to process and translate those moments in our own artistic voice….AND to FREE UP and not be STUCK!!
Can I exhibit or sell the work I create in this workshop?
One of the main intentions in my courses is to help you find ways to connect with a style all of your own. So, with this in mind, I'm happy for you to show and sell original, innovative work created. If, however, you feel that you want to follow along more closely and produce pieces very similar to those within the projects that is all good, but I would ask that you don't put those pieces out to exhibit or sell if they are close copies of my work. I trust that your heart will tell you what is too close. We also ask that you understand that these are Tracy's copyrighted techniques and may not be taught or packaged as a class by any individual other than Tracy without express consent. ♥
We're happy to offer a 7 day change of mind policy if you have not yet logged into your account. Login details for this class are sent automatically after purchase. As all the lessons are downloadable, we are unable to offer refunds on purchases if you have already logged into your account. Please ensure this class is for you before purchase, any questions before committing can be directed to info@tracyverdugo.com 🙂