...for those who are ready to move beyond their fear of faces.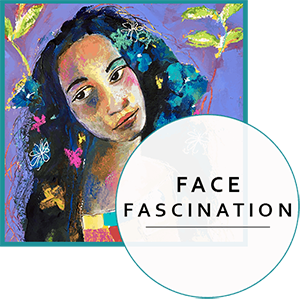 Face Fascination is organised in weekly increments across 4 fun-filled weeks. Find out more below and join us now!
"Our faces are the doorway to our stories and I have always been intrigued by the stories we carry.  The older I become the more I realise that there is so much more in those stories that connects us than there is to separate us..."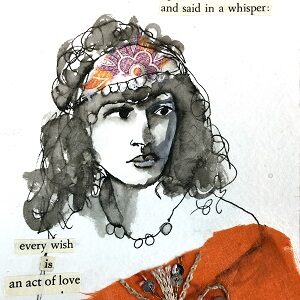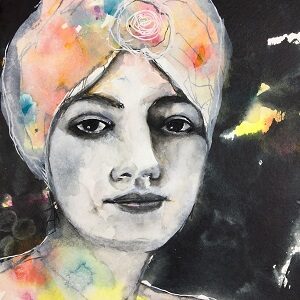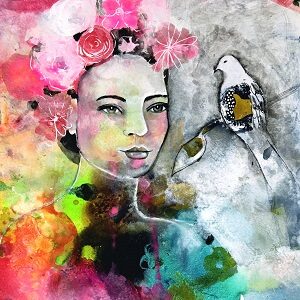 "Until you see beauty everywhere, in every face, until then, you are blind."
What will you be creating?
Here are just some of the lessons!
Here's what I want you to know...
When you take a class with me it's not even just about the art. It's about the whole shebang – Art as a metaphor for life.
When I first started making art at the beginning of the century (I just love saying that) I gravitated immediately to the human face. Eager to learn and explore I moved away for a little while into abstraction and intuitive painting but something is calling me back. And my sweet students have been begging me also... "Please make a class on faces!!"  And so for you, dear creative, I have done just that.
As creative seekers, artists, poets, art lovers of all skills and levels we can bring so much beauty to the global table by exploring the human face. Together we will use charcoal, ink, acrylic paint, pencils, pens and pastels to explore loose expressive sketches, character studies, whimsical characters, exuberant abstractions and mixed media portraits plus a whole lot more!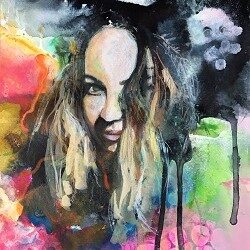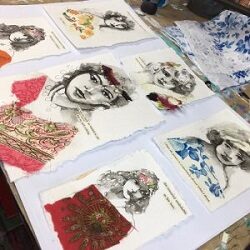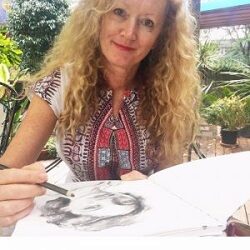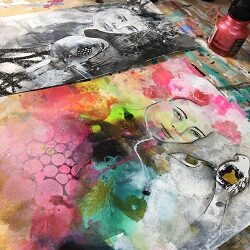 Tracy you are so inspiring! Thank you for challenging me! No more faceless figures for me. I love experimenting with all of the different techniques. I so adore you & all you create!
Frequently Asked Questions
We don't want you stressing too much about the supplies for this course. Many lessons can be adapted to be worked with whatever you have at hand. That being said, here are a few things Tracy uses throughout these lessons:
Watercolour paper pad, oil pastels, soft pastels (including white), assorted inks, transparency film sheets or a piece of glass for monoprints, acrylic paints, bamboo skewers, various brushes (one small detail, one wide flat 1″ wash brush, medium watercolour brush), patterned napkins, gel medium, rubbing (isopropyl) alcohol, kneadable eraser, white and black charcoal pencils, white gel pen, black uniball vision elite pen, willow charcoal and regular charcoal, lead pencils.
How long do I have access to this course?
We like to run a live session of Face Fascination about once a year. During these live sessions you there will be bonus content and lives posted across the 4-weeks in the dedicated Facebook community. You will also have daily interactions with Tracy.
If the class is not currently in session, you can still purchase at any point as a self-paced class. Once purchased, all lessons will be yours forever! The videos are downloadable for offline browsing or you can stream via our class website.
Is this course suitable for any level?
Absolutely!! I have been teaching my in person and online classes around the world for the past six years! Both beginners and more experienced painters have enjoyed epiphanies in creative process, shifted perspectives and enjoyed learning new techniques. Mostly though I have come to realize that what I am teaching is about how to see the creative possibilities inherent in every moment and then to learn ways to process and translate those moments in our own artistic voice….AND to FREE UP and not be STUCK!!
Is this course different to your in person workshop and/or the projects in your book?
All content in the Face Fascination E-Course is fresh and new. I like to keep things moving and get bored easily so this means I'm always changing things up and finding new inspiration and new ways to create. I hope I can pass that on to you!
Can I exhibit or sell the work I create in this workshop?
One of the main intentions in my courses is to help you find ways to connect with a style all of your own. So, with this in mind, I'm happy for you to show and sell original, innovative work created. If, however, you feel that you want to follow along more closely and produce pieces very similar to those within the projects that is all good, but I would ask that you don't put those pieces out to exhibit or sell if they are close copies of my work. I trust that your heart will tell you what is too close. We also ask that you understand that these are Tracy's copyrighted techniques and may not be taught or packaged as a class by any individual other than Tracy without express consent. ♥
We're happy to offer a 7 day change of mind policy if you have not yet logged into your account. Login details for this class are sent automatically after purchase. As all the lessons are downloadable, we are unable to offer refunds on purchases if you have already logged into your account. Please ensure this class is for you before purchase, any questions before committing can be directed to info@tracyverdugo.com 🙂