ANIMALITOS &

ANIMAL ANTICS
Two different arty adventures with our furry, fuzzy, feathered, finned, funny friends!
In my Animalitos and Animal Antics classes I bring you 11 fun and fabulous video tutorials to spark your creativity, activate your imagination, and give you the tools to make brave and unique moves with your art!
Each class contains a variety of different tutorials and you can purchase the classes separately or save by purchasing together!
Do you find yourself getting too serious with your art?
Want to loosen up and have fun drawing and painting cute and quirky animals without worrying about the final product?
Are you ready to learn to paint pooches with personality, kitties with charisma, ellies with a little je ne sais quoi?
If you're looking for a fun class to help you become a more relaxed artist, to help you see the possibilities even in the ones that don't work out, this one is for you!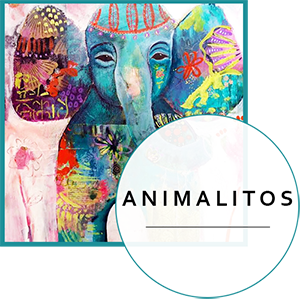 I'm so excited to present my mini mojo series with an intention for you to expand your creative heart in a "no pressure" way. In my first mini mojo class, Animalitos, we play with a variety of fun techniques to bring the crazy critters of the world to life on your canvas.

Animalitos~ For just $65 you will receive approx 5 hours of video (plus additional notes) covering six diverse projects including elephants, kittys (big and small!) and a menagerie of inky animalitos inspired by the collections in our home.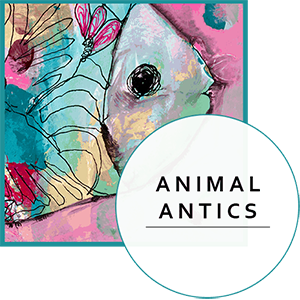 In Animal Antics we take up where we left off with my previous Animalitos class! This time we'll explore creating more cute animals from pandas to deer, owls to elephants using techniques from continuous line drawing, charcoal sketches, collage, acrylic inks and more! This class was first offered on Jeanne Oliver's creative network in 2017.
Animal Antics~ I couldn't stop at just one animal inspired class so in this one I share another 4 hours of video (plus additional notes) covering five diverse projects including fast and freeing warm ups, a cute collection of collaged creatures, a gorgeous gathering of inky animals, a sunbaking panda and a sweet and gentle deer. All of this for $65!
What will you be creating?
"I had so much fun playing! Thank you Tracy Verdugo for helping me out of my comfort zone! I LOVE, LOVE, LOVE the process."
In these fun and funky workshops it's all about our furry and feathered friends, all creatures great and small.
I adore the beautiful creatures we share this planet with and I know you do too! See you in class!
Frequently Asked Questions
We don't want you stressing too much about the supplies for this course. Many lessons can be adapted to be worked with whatever you have at hand. That being said, here are a few things Tracy uses throughout these lessons:
ANIMALITOS: Acrylic paints, fluid and heavy bodied, oil, collage elements, pencils, charcoal, acrylic inks, gel pens, oil pastels, paint pens, canvas and wood substrates and watercolour papers.
ANIMAL ANTICS: Soft charcoal, cartridge paper or any cheap sketch paper, kneadable eraser, soft pastels, blending stump, felt markers and gel pens, student oil pastels, brown craft paper, matte medium or other gel medium, water color paper, mark making tools from the garden or around the house, white gesso or white heavy bodied acrylic paint, several wide flat wash brushes, Daler Rowney acrylic artists inks, golden fluid acrylics.
Notes for each project will include suggested brands and types of supplies used.
How long do I have access to this course?
You can purchase these classes at any point in time as a self-paced class. Once purchased, all lessons will be yours forever! The videos are downloadable for offline browsing or you can stream via our class website.
Are there captions/subtitles?
Yes! The videos in this online course currently have English captions and Spanish subtitles.
Is this course suitable for any level?
Absolutely!! I have been teaching my in person and online classes around the world for the past nine years! Both beginners and more experienced painters have enjoyed epiphanies in creative process, shifted perspectives and enjoyed learning new techniques. Mostly though I have come to realize that what I am teaching is about how to see the creative possibilities inherent in every moment and then to learn ways to process and translate those moments in our own artistic voice….AND to FREE UP and not be STUCK!!
Can I exhibit or sell the work I create in this workshop?
One of the main intentions in my courses is to help you find ways to connect with a style all of your own. So, with this in mind, I'm happy for you to show and sell original, innovative work created. If, however, you feel that you want to follow along more closely and produce pieces very similar to those within the projects that is all good, but I would ask that you don't put those pieces out to exhibit or sell if they are close copies of my work. I trust that your heart will tell you what is too close. We also ask that you understand that these are Tracy's copyrighted techniques and may not be taught or packaged as a class by any individual other than Tracy without express consent. ♥
We're happy to offer a 7 day change of mind policy if you have not yet logged into your account. Login details for this class are sent automatically after purchase. As all the lessons are downloadable, we are unable to offer refunds on purchases if you have already logged into your account. Please ensure this class is for you before purchase, any questions before committing can be directed to info@tracyverdugo.com 🙂