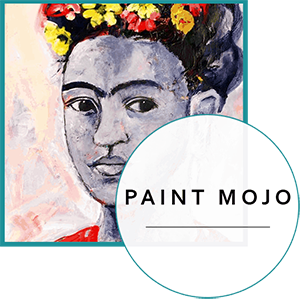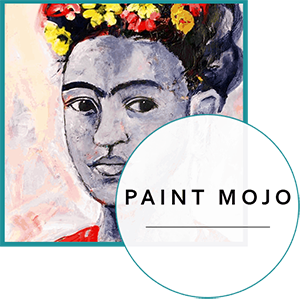 YOU HAVE IT IN YOU. That creative spark. That flame of desire.
You want to watch the paint flow with ease, get whats in your head to match what comes out on your canvas, paper, page, be so filled with ideas and inspiration that you never get stuck!
Paint Mojo the E-Course is now a self-paced and fully downloadable class!
Access will be given immediately after registration is complete and payment processed. There is a wonderful FB community for all Paint Mojo E-Course students and Tracy pops in every now and then to say 'hi!'.
This WILL be a class about finding your voice, your style, your confidence. About exploring creative process and possibilities and finding new things, epiphanies from mistakes, happy accidents, making new connections and being open to new dreams.
Maybe you'll find a portrait from your palette or an elephant in your inky explorations, or maybe you'll find something you never even dreamed of. You WILL be challenged to shift perspectives and the way I will be doing that is by inviting you into my own process as I do the same.
There will be two very different video deliveries each week.
One, a professionally filmed HD video that follows the progress of one of my large format paintings. This will be very much like attending a live two day workshop with me and I will talk you through the moves I make, the symbols I use, the colours I choose, the problems I encounter and how I solve them.
My intention is for you to paint a large painting alongside me and from the pics below from two of my in person workshops you can see that there will be many variations that will come from this process.
The OTHER weekly videos will be more intimate, less polished, just me (and you, and maybe a kitty or two) in my studio with my camcorder exploring ideas to share with you.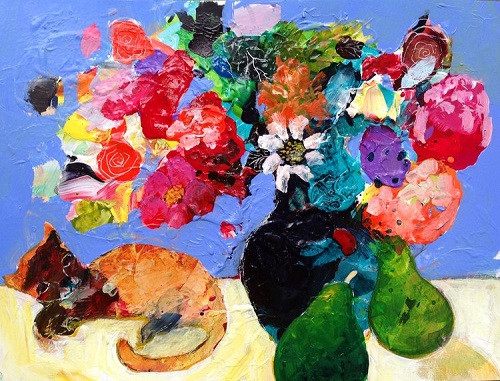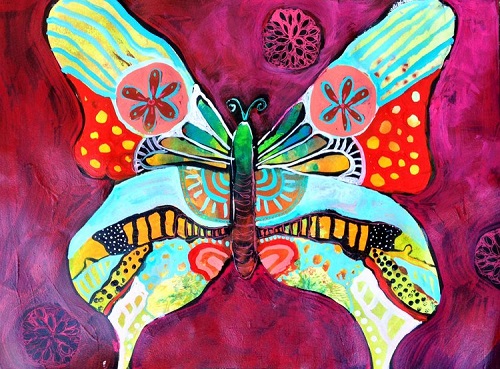 Here's the thing…
I LOVE to be in the same heart/mind space as my students. My workshops are never rehearsed or planned to the last detail. I am ALWAYS open to heading off in brand new directions and these videos will show that.
Although in each one I do start off with a general idea of the project that will go with the weekly theme I have not rehearsed or tested the project beforehand in any case.
This is so EXCITING as you will be right there with me as I make a new discovery OR change direction OR create a little side project from my leftover paint that will reappear in a later week. You will be right there as I make a mistake or LOVE what I am doing or decide I DON'T like what I am doing, or get a bit frustrated or stick my brush in my coffee.
In essence you will be there with me in my slightly messy, definitely not "styled" creative space and together we will move forward and get stuck and make messes and beauty all at the same time.
Are you READY to let go of any preconceived notions and trust, to find your mojo and make your mark?
"You have such fresh ideas, content, and a great organized, yet spontaneous, teaching style. Truly an incredible class by which all others will be compared."
— Sheila
Example student work

By Marilyn Davies