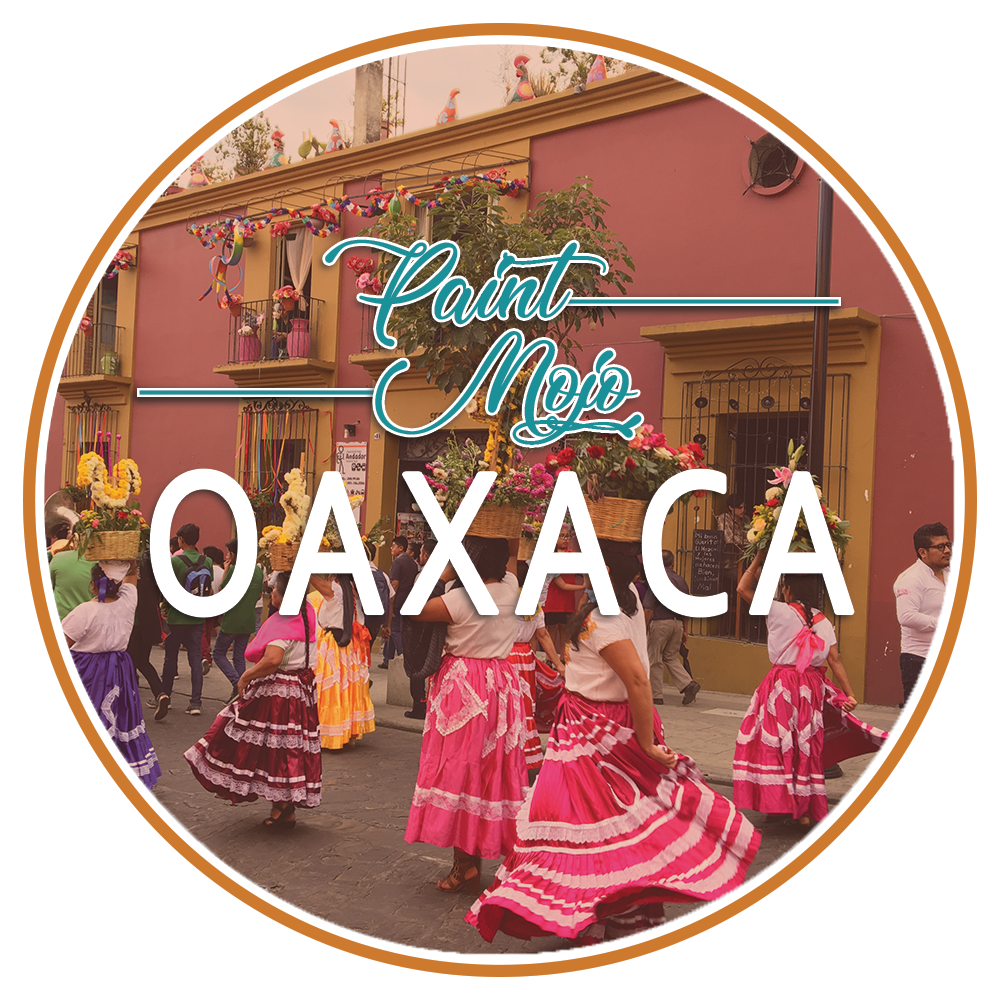 Paint Mojo retreat with Tracy Verdugo in Oaxaca, Mexico
September 11th to 18th, 2023 | September 25th to October 2nd, 2023
Retreat package to include:
Generous daily art tuition and inspiration from Tracy
6 days and 7 nights of complete cultural immersion
Delicious breakfasts, some lunches and two group dinners
Private and shared accommodations at the beautiful boutique Hotel Pilares
Day trip and excursions
Please email info@tracyverdugo.com if you wish to be added to the waitlist. Make sure to include your preference for workshop dates.
CREATE. SHARE. EXPLORE. IGNITE YOUR CREATIVE WANDERLUST!
Join Tracy Verdugo, internationally celebrated artist and author for an inspirational painting retreat designed to free up your creative mojo.
Your week will include six days of guided class sessions, Q&A time with me, PLUS delicious breakfasts and lunches onsite on class days AND an art walk and a group dinner in the Historic center.
Imagine yourself waking up slowly and naturally, breathing in the clean mountain air, stretching your body in anticipation of a day of expansive creativity...
Imagine enjoying a delicious breakfast, laughing and chatting with new friends, perhaps taking a dip in the gorgeous pool before laying out your paints and materials to dedicate the whole morning to learning and painting...
Imagine more delicious food at lunch, more painting, swimming, exploring, communing, all of this on endless repeat for six days with pure creative bliss!
Most of you know of my ongoing love affair with Mexico and it is absolutely one of my favourite places to teach and facilitate retreats. I am so excited to be returning to the beautiful city of Oaxaca once again in 2023! Our intimate group will explore the beautiful colonial city of Oaxaca, world renowned for its food, fiestas and art, soaking up the abundance of inspiration, while enjoying the elegant ambience of our gorgeous boutique hotel, and making art together just across the street in the fabulous artspace and mezcaleria El Armadillo Negro.
Our home for the week will be the elegant Hotel Los Pilares in the Jalatlaco neighborhood, one of the oldest in the city of Oaxaca, and a part of the polygon of the Historic Center of Oaxaca, declared Cultural Heritage of Humanity. The hotel still retains its colonial architecture. Corridors and patios are decorated with frescoes, candles and flowers so that our guests can enjoy a quiet and harmonious atmosphere. And the best part... Our group has the entire hotel to ourselves for the week of the retreat, rooftop pool included!
Come and join me for six days/seven nights of creative exploration in Oaxaca, Mexico. We'll marvel at the wealth of creative artisans, both traditional and contemporary, the handwoven fabrics, indigenous designs, exquisite ceramics and jewelry and amazing street art everywhere!
Together we'll stroll the cobblestoned streets, sketching and taking photos of the colourful colonial architecture. Color is a key ingredient of Oaxacan life and the streets are full of it!! If you are keen to venture out with me before class one morning or in the golden hour before sunset I'd love to give you some tips on taking fabulous photos with your phone.
For those of you who have previously painted with me, this experience will be completely different than any other Paint Mojo workshops. We will be totally immersed in the culture of this beautiful city and people, and I will be leading you through many of the new techniques I have been working with these past few years to translate our experience into both abstract and more narrative artworks! I will be keeping the itinerary loose, allowing ample time for personal exploration and serendipitous happening. I will give generous personal tuition time to each student in the group and provide many inspiration prompts, techniques and glimpses into my own process. We will be painting primarily in the mornings with free time in the afternoon/evening to shop, dine and wander the cobblestoned streets of the historic district of Oaxaca City.
The warm, friendly and welcoming people of Oaxaca will steal your heart and delight your senses with the spontaneous parades, fiestas, dance and musical performances that spring up daily to surprise you as you're walking down the street... and oh my, the food! Oaxaca is one of Mexico's foremost foodie destinations. The state's great cultural and biological diversity means that there is a wide range of ingredients and methods of preparation, many of these dating back to pre-Hispanic times. As is the case throughout Mexico, corn is the main dietary staple, and it is served in a seemingly infinite variety of ways. Flavorful moles, fresh herbs, dried chiles, quesillo, and handmade corn tortillas are just a few of the elements that make Oaxacan food so special. If you're keen I can even take you to try some chapulines, the fried grasshoppers that are as popular as peanuts here! All washed down with a shot of Oaxacan mezcal of course!
"My experience of your online classes and in person classes is this: You are authentic, grounded, vulnerable and generous. No hype, just great techniques from a lovely person. But there is more. There is an idea in spirituality of "transmission." From a great spiritual teacher there is a transmission of spiritual experience or knowledge. From you I have such a profound transmission of creativity. You are connected to a deep creative well and that has been your gift to me. You have connected me to a creative source that I had no experience of and no idea existed. After the Whidbey mojo course I created for 48 hours straight in a way I never have before. I believe I was elevated in my creative self, not so much by the teaching or techniques but by the exposure to a creative person with a clear and strong intention to help others find that creative source."
-Lisa Page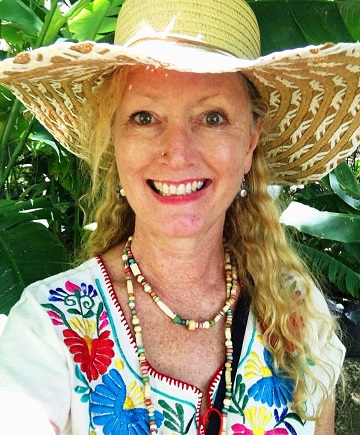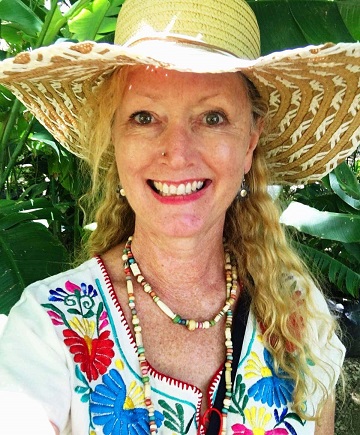 Artist, author, and Inspiration Instigator.
If Tracy Verdugo was given the opportunity to coin a term for a new art movement based around what she teaches she might call it "Curiosity and Wonderism" or maybe "Loosen-upism" or "Endless possibilitism".
When she is not hanging out with her family in their artsy adobe home in a small village on the shores of Jervis Bay, Australia, or throwing paint around in her little purple studio in their backyard, you may find her wrangling with two large suitcases attempting to board the BART in San Francisco en route to teach at an art retreat or sitting in a circle on St Pete Beach, Florida, listening intently as women share their stories of creative longing.
Her works are vibrant and filled with joy, inspired both by family travels in Mexico and the beauty of everyday life. Since 2000 Tracy has held 16 successful solo exhibitions and her works are held in collections both in Australia and overseas.
Mostly though, she is mama bear to two gorgeous, zest-filled daughters, Santana and Cece, and co-adventurer in life with her amor of 37 years, the talented and brilliant Marco.