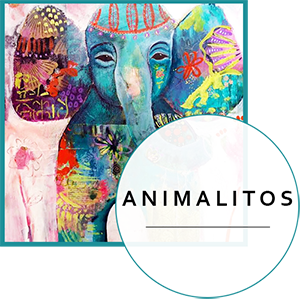 I'm so excited to present my Mini Mojo series with an intention for you to expand your creative heart in a no pressure way.
In my first Mini Mojo class, Animalitos, we play with a variety of fun techniques to bring the crazy critters of the world to life on your canvas.
Each mini mojo class is a fully downloadable, self paced class, accompanied by notes and an FB community page (should you wish to join). Kind of like buying a set of DVDs but with the extra bonus of the notes and some lovely kindred spirits along for the ride.
Content is delivered immediately upon payment and you are free to download and enjoy the lessons at your leisure.
For just $65 you will receive approx 5 hours of video (plus additional notes) covering six diverse projects including elephants, kittys (big and small!) and a menagerie of inky animalitos inspired by the collections in my casa. All content will be downloadable and yours to keep forever!
In this fun and funky workshop it's all about our furry and feathered friends, all creatures great and small!
I adore the beautiful creatures we share this planet with and I know you do too!