...For those ready to explore the world of Abstract Art.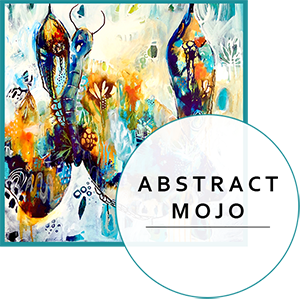 Abstract Mojo is my most popular 6-week online course that I've created just for you!
I invite you to join me on this self-paced abstract adventure across 6 different units and over 20 different lessons.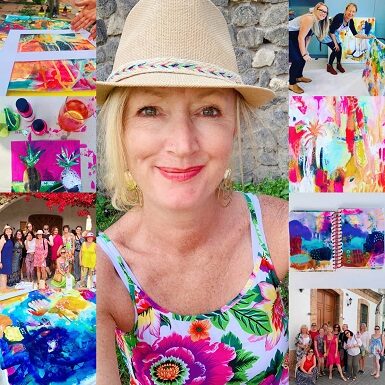 Are you putting too much pressure on yourself to create perfect art?
You feel your work is "too tight"
You often throw away your failures
Sometimes you just don't know where to start with an artwork
You've lost that feeling of joy when you pick up a paintbrush
Unleash your creative potential and take your abstract artwork to a new dimension!
Discover how to let go, get your creative mojo flowing and confidently create abstracts that you'll love to hang on the wall, give to a friend… or sell!
You're overthinking each brushstroke.
You want to throw your art away or paint over it.
I understand. I've been there. And I can help you move into a place of more inspired art making.
The feeling that one wrong move could ruin everything. The angst that stops your creative flow.
About 5 years into my painting journey...
...I remember thinking "I don't have any imagination", I can't think up ideas out of nowhere", the incessant comparing myself to others who had some kind of "gift" I just couldn't find in myself.
I decided to experiment with paint and keep working at it. In 2004 I had a successful exhibition, selling several thousands of dollars of art out of my own home. People loved the cutesy bird series but I KNEW there was something more inside me, something I wanted to articulate with my painting...
I looked around the art world and found myself drawn to paintings that had a certain edge and fresh energy, paintings that were both mysterious and compelling, paintings that told a story without telling the whole story.
Fast forward another 15 years, I've held 16 successful solo shows, explored a gazillion possibilities, sent my works to buyers across the world, traveled the globe teaching workshops, made a ton of mistakes (or happy accidents), taught thousands of students online and honed my skills and passion as an artist and as a teacher whose main desire is to have her students succeed in whatever way is right for them.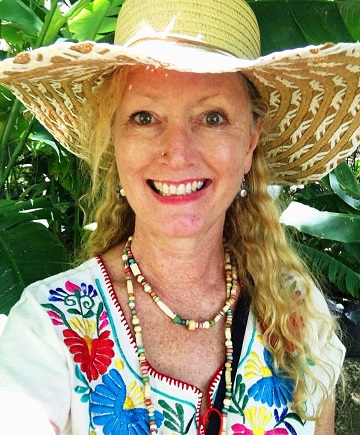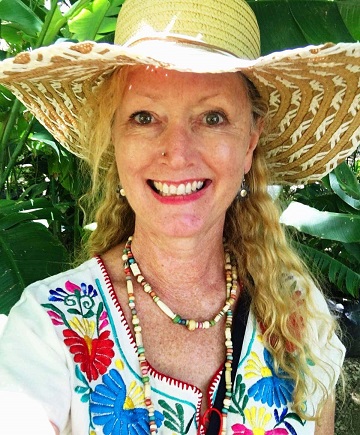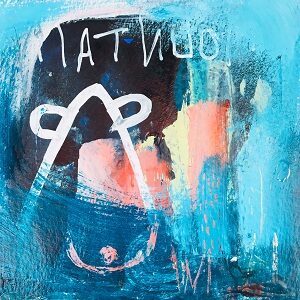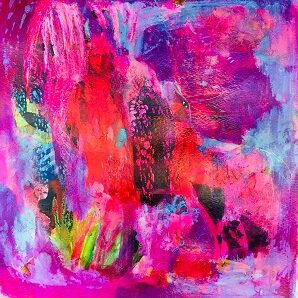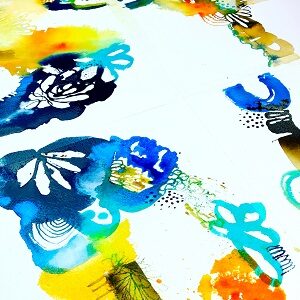 "Many thanks Tracy Verdugo for your lovely 6 weeks of guidance and support. I felt a bird taking off in flight represented the learning opportunity in taking the course for us all. Thank you classmates for your words and ideas and laments- they in degrees supported, confirmed and inspired me at various stages! I am going back to the start to pick up on what I missed, like a favourite movie that you watch over and over."
I'm excited to show you so many things!
I can show you how to loosen up, how to create art you can be proud to call your own, art that will no longer be thrown in the trash. I can help you take your art to the next level.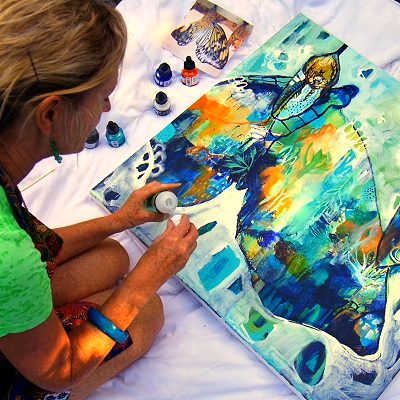 How to be confident and daring in your practice...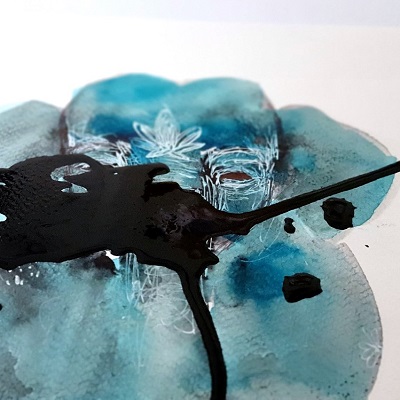 How to embrace the happy accidents...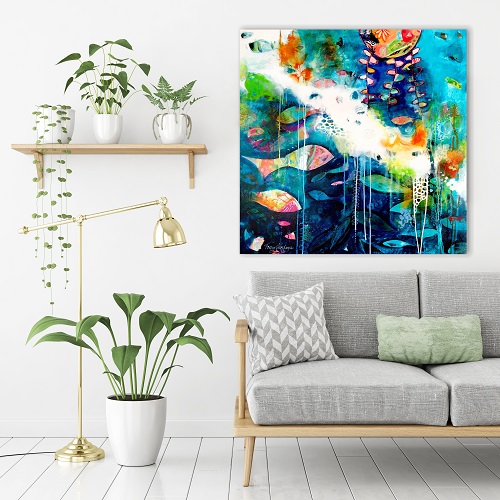 How to create art you can sell or hang in your home...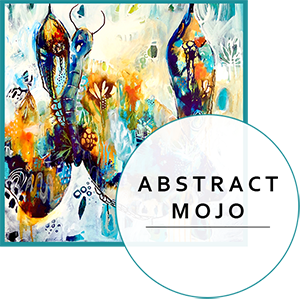 Abstract Mojo is my latest 6-week online course that I've created just for you!
I invite you to join me on this abstract adventure across 6 different units and over 20 different lessons.
Lessons are yours forever...
Enjoy access 24/7 to all the tutorials. You even have the option to download the videos for offline access.
Over 20 video tutorials...
With over 20 different lessons, Abstract Mojo will surely have you thriving in your art studio for much longer than 6 weeks!
Five of the six units contain bonus content and videos about some of Tracy's own artistic inspirations.
Frequently Asked Questions
We don't want you stressing too much about the supplies for this course. Many lessons can be adapted to be worked with whatever you have at hand. That being said, here are a few things Tracy uses throughout these lessons:
Suggested Golden Fluids:
Titan green pale, green gold, cadmium red, teal, quinachridone magenta, quinacridone burnt orange, titanium white, nickel azo yellow, nickel azo gold, pyrole orange, paynes grey, AND/OR your faves.
Suggested Daler Rowney Inks:
Paynes grey, light green, antelope brown, flame orange, galactic blue, marine blue, waterfall green, purple lake, burnt umber, fluorescent pink, silver moss, indigo, white AND/OR your faves.
Large watercolour pad 18x24". Cold pressed 300gsm (140lbs)
1 30x30" canvas
3 6x12" canvases
Sheet brown craft paper
Cartridge paper or sketch book paper
Masking tape, clear packing tape
Daler Rowney Acrylic artist inks
Golden fluid acrylics
Various brushes small to medium
Several flat smooth square brushes
Heavy bodied acrylics
Any kinds of pencils for detail: watercolor, pastel, sketching etc.
Any and all mark making tools: nature tools, stamps, stencils, sponge etc.
Charcoal: willow and block
Bamboo skewer or stick for detailed mark making
Scraper: eg. old credit card
Soft brayer
White and gold gel pen
Black felt marker
White oil pastel white (or plain taper candle)
Other color oil pastels
Soft pastels for week five (optional)
Gel pens in various colors (optional)
White Posca Pen
Isopropyl alcohol
Collage: patterned napkins, collage paper, small roll gauze bandage etc.
Gel medium or matte medium for collage (PVA if you don't have medium)
Texture medium
Masking fluid
Transparent gesso
Baby wipes, paper towels
How long do I have access to this course?
This class is currently self-paced class. Once purchased, all lessons will be yours forever! The videos are downloadable for offline browsing or you can stream via our class website.
Is this course suitable for any level?
Absolutely!! I have been teaching my in person and online classes around the world for the past nine years! Both beginners and more experienced painters have enjoyed epiphanies in creative process, shifted perspectives and enjoyed learning new techniques. Mostly though I have come to realize that what I am teaching is about how to see the creative possibilities inherent in every moment and then to learn ways to process and translate those moments in our own artistic voice….AND to FREE UP and not be STUCK!!
Is this course different to your in person workshop and/or the projects in your book?
All content in the Abstract Mojo E-Course is fresh and new. I like to keep things moving and get bored easily so this means I'm always changing things up and finding new inspiration and new ways to create. I hope I can pass that on to you!
Can I exhibit or sell the work I create in this workshop?
One of the main intentions in my courses is to help you find ways to connect with a style all of your own. So, with this in mind, I'm happy for you to show and sell original, innovative work created. If, however, you feel that you want to follow along more closely and produce pieces very similar to those within the projects that is all good, but I would ask that you don't put those pieces out to exhibit or sell if they are close copies of my work. I trust that your heart will tell you what is too close. We also ask that you understand that these are Tracy's copyrighted techniques and may not be taught or packaged as a class by any individual other than Tracy without express consent. ♥
We're happy to offer a 7 day change of mind policy if you have not yet logged into your account. Login details for this class are sent automatically after purchase. As all the lessons are downloadable, we are unable to offer refunds on purchases if you have already logged into your account. Please ensure this class is for you before purchase, any questions before committing can be directed to info@tracyverdugo.com 🙂