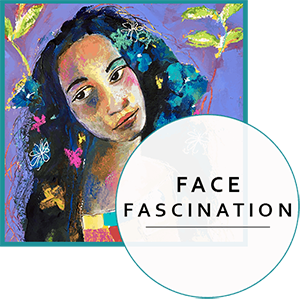 Face Fascination is organised in weekly increments across 4 fun-filled weeks. Find out more below and join us now!
"Our faces are the doorway to our stories and I have always been intrigued by the stories we carry.  The older I become the more I realise that there is so much more in those stories that connects us than there is to separate us..."
Face Fascination is a class with:
Quirky faces. Nostalgic faces. Imperfect faces. Angelic faces. Unusual faces. Beautiful faces. Wise faces. Quick, loose and easy faces and faces that take a little time. Faces emerging from abstract backgrounds and faces that command the whole space with no need for distraction. Faces that tell stories and faces that make us guess.
You get 16 different lessons and 20 video tutorials!!
Here's what I want you to know...
When you take a class with me it's not even just about the art. It's about the whole shebang – Art as a metaphor for life.
It's about you finding your voice in the world, feeling at ease within your own skin and doing what you came here to do.
Create beauty and allow your gifts to shine. That's my gift to you and I feel blessed and honoured to be a catalyst for you to lead your most inspired life.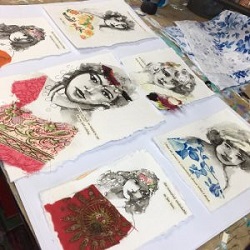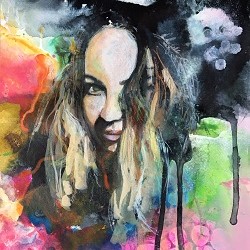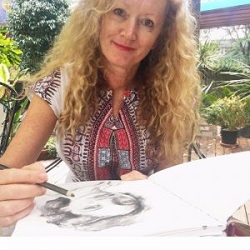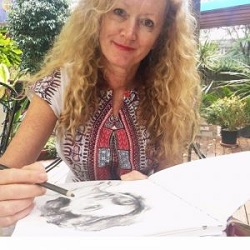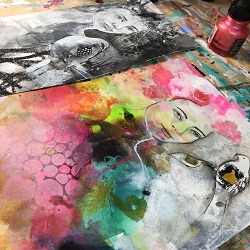 When I first started making art at the beginning of the century (I just love saying that) I gravitated immediately to the human face. Eager to learn and explore I moved away for a little while into abstraction and intuitive painting but something is calling me back. And my sweet students have been begging me also to…  Please make a class on faces!!  And so for you, dear creative, I have done just that.
As creative seekers, artists, poets, art lovers of all skills and levels we can bring so much beauty to the global table by exploring the human face. Together we will use charcoal, ink, acrylic paint, pencils, pens and pastels to explore loose expressive sketches, character studies, whimsical characters, exuberant abstractions and mixed media portraits plus a whole lot more!
My aim is to show you as many different approaches to the human face as I can think of, from monoprints to nostalgia-inspired mixed media portraits, Picassso-esque creations to large scale expressive charcoal drawings!
"Until you see beauty everywhere, in every face, until then, you are blind."
— Kamand Kojouri
So who exactly is Face Fascination for?
You can roll your eyes or laugh out loud or crinkle your nose or any of the above if you recognize yourself in this list.
You desperately want to try faces but there's no way you're going to do it in front of anyone else.
You're overly self-critical and you tend to give up on yourself too soon.
You're searching for your own creative voice and want to try a myriad of different techniques and approaches to help you better hone in on your own emerging style.
You're a total beginner with a whole bunch of enthusiasm and/or a shy curiosity.
You're a long time painter but feel the need to try some fresh new approaches.
You are both fascinated AND intimidated by the thought of painting and drawing faces.
You see the beauty in all faces and are drawn to the stories they tell but doubt your own ability to convey that beauty.
You want to work with a teacher who will gently guide you to find your own creative strengths.
You want to loosen up and not be so uptight in your art making.
You'd love to paint more but need a little nudge from a supportive guide and community.
You'd rather paint at home in yoga pants or pj's and unbrushed hair up in a messy pony tail (wink, wink…me too).
You're looking to expand your vision of what is possible in your art, in your life, in the world.
You get bogged down or go into overwhelm with the amount of art online and need some help focusing in.
You're excited by the thought of being able to find your own way of painting/drawing the human face with confidence and individuality.
Example student work

By Cheryl Razmus