Paint Mojo Byron Bay | Nov 6th-8th
Come and join me in this painting workshop for all levels!
I invite you to come on a journey with me, one of vibrancy and playfulness, freedom and fearless exploration. I invite you to come and discover the beauty of your own story, the strength of your own mark, the gift of your creative voice.
Description
Here's what I want you to know….
When you take a class with me it's not just about the art. It's about the whole shebang. Art as a metaphor for life. It's about you finding your voice in the world, feeling at ease within your own skin and doing what you came here to do. Create beauty and allow your gifts to shine. That's my gift to you and I feel blessed and honoured to be a catalyst for you to lead your most inspired life.
During this workshop, we will learn to find our own inner muse, reconnect with our creative selves and find inspiration for our art in unexpected places. With a focus on gratitude, letting go of our inner critic and playful exploration, Tracy will guide you through a series of fun, playful, exercises, encouraging you to become an explorer of possibilities. Tracy will share tips and techniques on creating vibrant, expressive, colourful paintings, using acrylics, charcoal, collage, ink and pastels. She will gently guide you into your own personal creative flow and help you find ways to recognise your own authentic creative voice. The class will delve into elements of both abstraction and more realistic interpretation and students will be encouraged to focus on what interests them most.
We will create multiple works on paper and/or canvas and I will show you how I utilise a viewfinder to find small sweet spots in larger works AND how I use paper as my palette and then turn those palettes into paintings!! For those who have attended a workshop with me before (either online or in person), please know that my classes (and I!) are always evolving. As I grow and expand in my own art practice I am always excited to share new discoveries and passions with my students! The new longer format allows us to dive deeper AND into the gorgeous possibilities that acrylic inks offer us. Using nature, memory AND our imaginations, we will work not only on a large canvas, but also on multiple watercolour sheets examining both abstraction and more literal aspects of this style of painting.
More details
Only 18 spots available!
WHERE WILL THE MAGIC HAPPEN?
Private venue in Ewingsdale, NSW
Address to be sent privately prior to the workshop.
BYO lunch. Tea/coffee provided.
WHEN WILL THE PAINT FLY?
Nov 6th, 7th, 8th, 2020
10.00 am-5.00pm each day (1 hour lunch break)
Suggested supplies
Acrylic inks- My favourite art medium of the moment is the Daler Rowney FW acrylic inks.

Feel free to go crazy with them and bring as many as you like! My favourite colors are antelope brown, paynes grey, flame orange, marine blue, fluorescent pink, Indian yellow, indigo, light green, olive green, red earth, turquoise and ALL of the pearlescent colors! If you're unsure and just want to bring a few you are welcome to try out all of the colors that I will have on hand.

A small selection of fluid and heavy bodied acrylic paints (I use golden fluid acrylics), 1 red, 1 blue, 1 yellow in fluid acrylic and a different kind of red, yellow and blue in heavy bodied acrylic + any other faves.

Please note that I understand Golden Fluids are expensive, it would be helpful to purchase at least 3 colours in the Golden Fluid in the smallest size. Dick Blick is where I buy mine. I will also have some inks and paints to share!

Tube of acrylic white (any brand is fine but please note that cheaper white paints will not give the same coverage)
1 large canvases rectangular or square from 24- 30 inches (no larger please as we fit two students to a table in most venues)
1 large watercolor pad (at least 12 sheets) I use Strathmore 18×24" 140lb
Spray bottle for water (please make sure it has an even spray setting)
Apron or clothes you don't mind getting messy
A couple of pencils to sketch with
Stencils, stamps and other mark making implements (think creatively!)
Patterned napkins (optional- I will bring some too)
A sketchbook to take notes and record ideas
Bamboo skewers
A fine brush, a few other brushes (old and new), a wide flat wash brush (1 -2 inches) (I use a Renoir wide flow 8020 2 inch)
T&C's
By registering you agree to the following terms:
CONFIRMATION AND COMMUNICATION:
To register for this course you must pay a 50% deposit or pay in full.  All workshop information will be emailed to the email address you used when registering. If you require the materials be sent to an alternate email address, please email info@tracyverdugo.com.
CANCELLATION AND REFUND POLICY:
All cancellations are subject to a $50 handling fee. For reservations cancelled 1 month or greater before the workshop, you will receive a full refund minus our handling fee ONLY IF we can find a suitable replacement. Cancellations made within 1 month of the workshop are non-refundable.
Should any workshop/retreat be cancelled the entire amount paid will be refunded within fourteen days after cancellation. Once this occurs, we have no further obligations regarding any additional costs or fees related to the issuance and/or cancellation of airline tickets or other travel reservations. We accept no liability for any airline cancellation penalty incurred by the purchase of a non-refundable ticket. Nor do we accept liability for cancelled flights.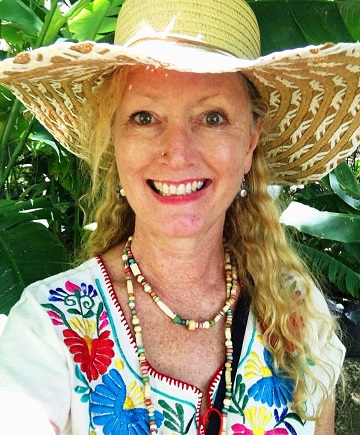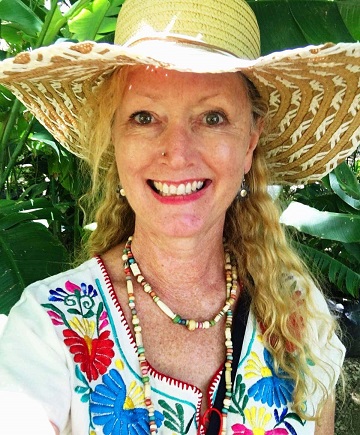 Your teacher - Tracy Verdugo
If Tracy Verdugo was given the opportunity to coin a term for a new art movement based around what she teaches she might call it "Curiosity and Wonderism" or maybe "Loosen-upism" or "Endless possibilitism".
When she is not hanging out with her family in their artsy adobe home in a small village on the shores of Jervis Bay, Australia, or throwing paint around in her little purple studio in their backyard, you may find her painting beside thermal pools on an Italian island with an eager group of students, Aperol Spritz in one hand, paintbrush in the other, or sitting in a circle on St Pete Beach, Florida, listening intently as women share their stories of creative longing.
Tracy is an inspiration instigator, prolific painter, bestselling author and lover of the written word, smitten traveller and soaker up of all that is beauty-full. She teaches her Paint Mojo and other creative workshops all over this amazing planet and reminds her students of the wonder that already resides within them. Her works are vibrant and filled with joy, inspired both by global travels and the simple beauty of the focused moment.
Since 2000 Tracy has held 18 successful solo exhibitions and her works are held in collections both in Australia and internationally. Mostly though, she is mama bear to two gorgeous, zest-filled daughters, Santana and Cece, and co-adventurer in life with her amor of 34 years, the talented and brilliant Marco.
 Sign up to our newsletter for new workshop announcements and more. When you sign up you will receive a free digital download, a free video tutorial AND 30% off Paint Mojo the E-Course!