Do the insides of your mind sound like this?
Great. My portraits look like a toddler painted them…
… and everyone else's portraits look so wonderfully expressive! 
How do they do it? Where do I even start? 
Are there any rules? What materials should I be using? 
I feel like there's useful stuff out there that nobody taught me.  
And I know this "comparison game" isn't doing me any good, but… how do I stop? 
How can I learn to just enjoy portraiture on my own terms?  
Over the past 20 years of teaching my art courses to thousands of students, I've come to realize that there are several core issues blocking them creatively or keeping them from enjoying their painting time to the fullest.
Here are the three main issues expressed by my art students: 
№ 1: Loosening Up
A lot of art students struggle to go with the flow, especially at first. In essence, they're worried about doing something wrong, and they're struggling to fully embrace the wondrous possibilities of "happy accidents." 
№ 2: Comparing Themselves to Others
We're social creatures, so it can be hard to turn off the comparative (and competitive) parts of our brain. We don't want to be judged, especially not for personal expressions like painting— so it's incredibly important to have a safe, positive, judgment-free learning environment. 
№ 3: Infusing Their Art with Joy and Play
Even if we get comfortable with the artistic process, we can easily find ourselves focused on "reaching the destination" of the painting rather than enjoying the journey it offers. The people who most enjoy painting enjoy it in the moment, and that's where true joy and playfulness can open up in your art.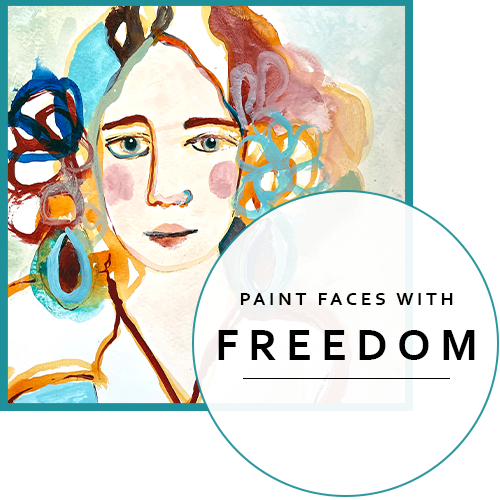 Embrace spontaneity and playful warm ups
       (instead of doubting your every move)
Ease into flow state, allowing your intuition to guide you naturally
       (so you can stop comparing & find your own creative voice)
Find beauty even in the messy bits
       (without throwing your work in the trash)
Blend tools and materials together in innovative ways
       (throw out the rule book instead!)
Focus on the joy in your paintings and your life!
      (and clear those negative, critical vibes)
For a one-time payment of $37USD.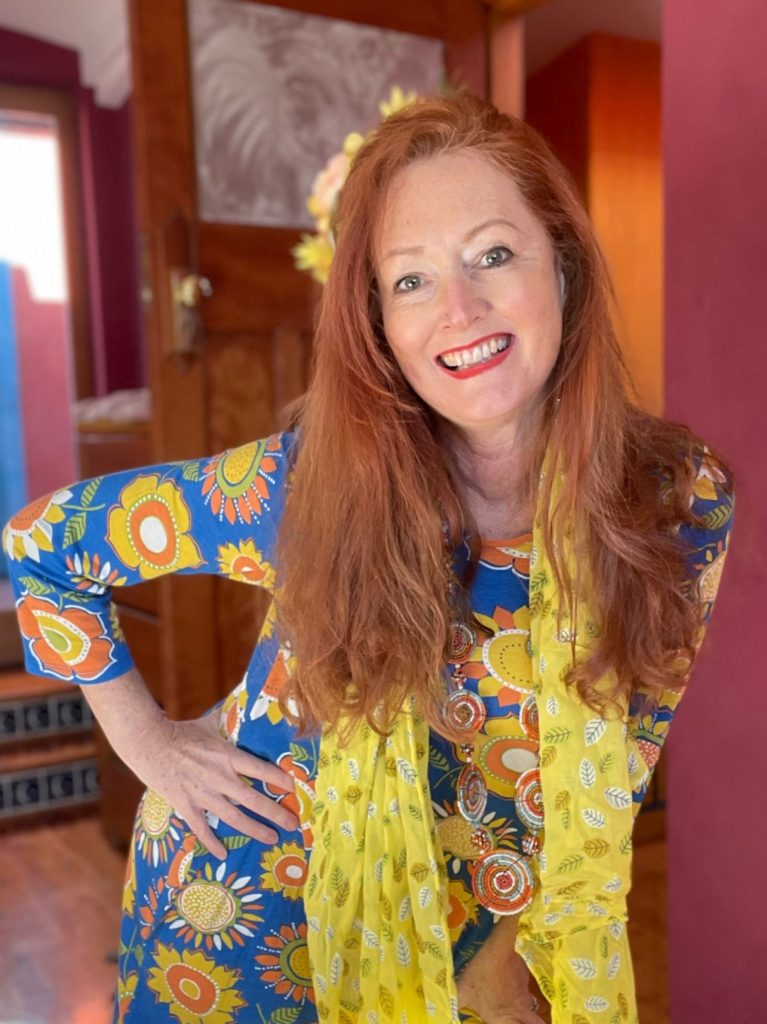 Hi, I'm Tracy!
I've been teaching students to loosen up and find joy through art for more than 20 years. 
When I was a kid, I believed that art was a special gift given only to a select few people at birth. In my family, it was my brother Jason who seemed to have that magic art gene; he would spend hours sprawled on the floor sketching and, whenever I tried to do the same, my work would inevitably end up in the bin. 
But when I was 33, I joined a local art class and my whole world shifted. 
Within two weeks, I had the epiphany that art wasn't just for those lucky few. I realized that creativity encompassed all parts of ourselves, that creating things—art, gardens, stories, games, you name it—was actually our birthright, and that spending time creating and making art can actually enhance every single aspect of our lives!
I started teaching as soon as I could, gathering the neighborhood kids into my garden shed, and in the two decades since, I've been honing my skills. My mission is to bring more joy, more play, more confidence, and more ease to the lives of my students (now from 70+ countries around the world!) through artmaking. 
Painting faces has always fascinated me—so much so that portraiture was my first love when I began making art. A few years back, I created my extensive Face Fascination class which has already been taken by hundreds of students!
Many of you were a little nervous to take the leap into such a large course, so you asked me to create a smaller course on faces—something you could dip your toes (and paint brushes) into, a "taster" that would give you the confidence to go further…
And here it is!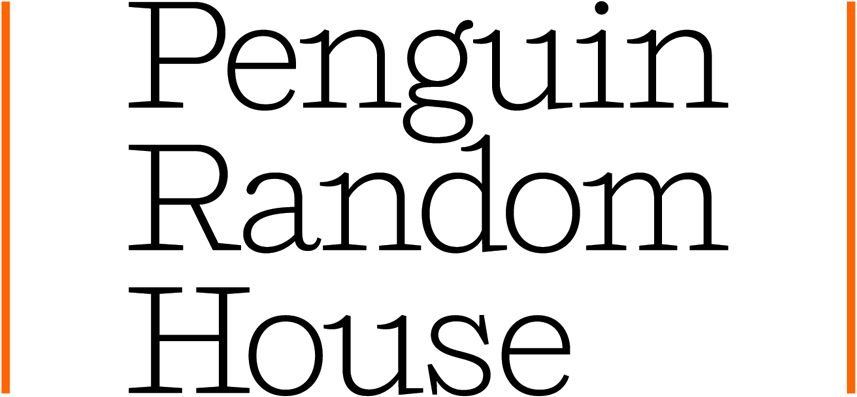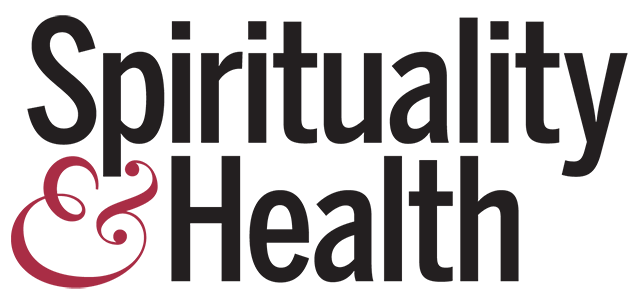 Lesson 1- Sketchbook Warm ups - 20 minutes
In this lesson, we'll start from a variety of reference images and explore the freedom and beauty of continuous line drawing. Let's start to demystify the contours of the face!
Lesson 2- A Simple Line Portrait - 35 minutes
In this lesson, we'll take inspiration from our warm-ups in Lesson 1 to create a fun, simple minimalist portrait using a limited palette.
Lesson 3- Loosening Up with Charcoal and Ink - 34 minutes
In this lesson, we'll get loose and start to let ink and charcoal fly and mingle! I'll help you to see the beauty made possible when you allow for spontaneity and let go of trying to control every outcome.
Lesson 4- Stories Faces Tell - 33 minutes
In this lesson, we'll look at a fun way of creating characters using torn pages from books as our substrate and nostalgic photos as our reference images.
Lesson 5- Quirky Characters - 32 minutes
In this lesson, we'll have a blast with collage, inks, paint, and pens to create quirky characters full of personality!
For a one-time payment of $37USD.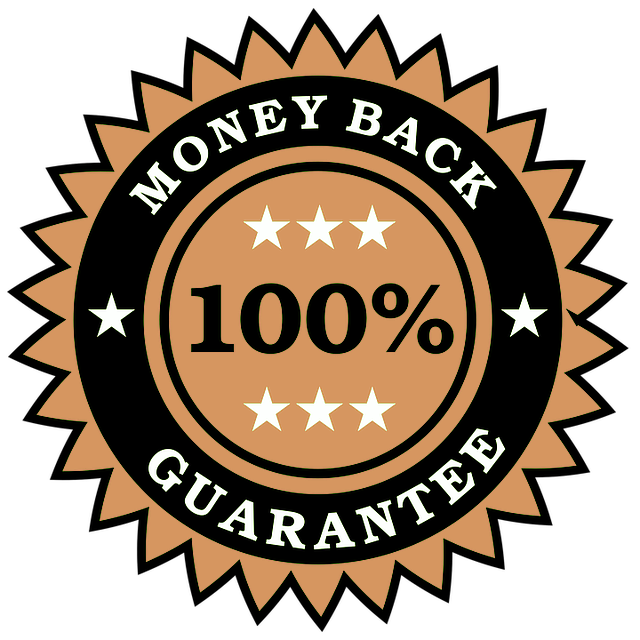 100% Satisfaction Guarantee
Paint Faces with Freedom is 100% Risk-Free!
If you feel like you don't get 10x the value from this online art course and additional bonuses, you can email us at info@tracyverdugo.com anytime within 30 days, let us know why the class wasn't for you and we will happily refund your full $37.
Frequently Asked Questions
How much time is required?
The (five) lesson videos are between 20-35 minutes apiece.
Having said that, the goal is to be as creative as possible, and to get you creating as much as possible—so be warned that you'll be wanting hours in your studio by the end of this course! 
(There's also a good chance that you'll want to paint along, pause, rewind, and so on while you're watching the videos.)
Are there captions/subtitles?
Yes! The videos in this online course currently have English captions and Spanish subtitles.
I don't have many art supplies. Can I still do these lessons?
Absolutely! While I always have my favorite supplies, I want you to be open and adaptable and use what you have. 
Don't have acrylic paints? Try doing the same tutorial with colored pencils and see what unique results you can get!
Having said that, here's a list of everything I use in this art course:
Sketchbook

Sketching pencils

Watercolor paper

Various brushes

White gesso

Various fluid acrylic paints

Willow & compressed charcoal

Paper towel

Bamboo skewers

Spray bottle with water

Watercolor pencils or similar

Various gel pens

White acrylic ink, matte medium

Collage ephemera
I already bought another one of your online courses. How is this different?
All of my online classes are unique and completely different from one another. This course is equally for artists who struggle with portraits and for artists who are just starting out. My aim is to provide inspiration and possibility thinking for all creatives!
What kind of support and feedback is available?
My team and I are always happy to offer email support via info@tracyverdugo.com,  and you're always welcome to ask any questions in my Alumni Facebook group… I pop in pretty often, but (even better) you can get help and perspective from all of my other students as well. They're some of the warmest and most creative souls you'll ever meet!
Is everything available immediately?
Yes! Once you purchase the class, your login details will be sent to you within the hour (make sure to check your junk/spam and add info@tracyverdugo.com to your contacts list to keep those emails out).
Do I need a special program to access the materials?
All you need for this course is a device such as a laptop, tablet, or phone with an internet browser (I recommend Chrome).
Can I share this with a friend?
Once you purchase this class, it is meant for your eyes only. Please keep your login details to yourself. 
Do feel free, though, to share my website and even this page specifically if you think a friend would enjoy it!
Can I exhibit or sell the work I create in this workshop?
One of the main intentions of my courses is to help you find ways to connect with a style all your own. So I'm happy for you to show and sell any original, innovative work you create… in fact, I encourage it!
However, if you would like to follow along and produce pieces very similar to those within the course, I would ask that you don't put those pieces out to exhibit or sell if they are close copies of my work. I trust that your heart will tell you what counts as "too close" to it. 
I also ask that you understand that what's taught in my courses are my copyrighted techniques, and may not be taught or packaged as a class by anyone else without express consent. ♥
Can I teach these tutorials in my own classes?
I love sharing generously in my classes, but these tutorials, including all of their video and written content, are copyrighted material and are not to be shared or taught by others without specific consent. I ask that you please respect my intellectual property… I worked very hard to build all of my art courses!
Is there any way I can access this course without an internet connection?
You'll need the internet to first access the course, but once you're in, you can download the lesson videos for offline use! (That's one of the bonus features.)
If you feel like you didn't get your full money's worth from this online course and its bonuses, just email me at info@tracyverdugo.com within 30 days and let me know why it wasn't for you, and I'll happily refund your money.  
The only exception: all sales are final for the $7 digital prints add-on.
For a one-time payment of $37USD.
"I am an acrylic artist who lost her mojo. I signed up for a 3 module class with Tracy. It has been a wonderful enriching experience for me. She is organized, clear and so generously shares her abundance of artistic knowledge and experience. I truly recommend taking her courses. Thank you, Tracy, to opening my eyes again to the possibilities."