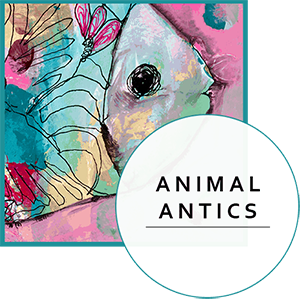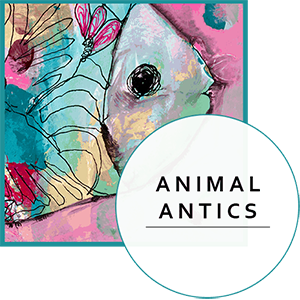 In Animal Antics we take up where we left off with my previous Animalitos class! This time we'll explore creating more cute animals from pandas to deer, owls to elephants using techniques from continuous line drawing, charcoal sketches, collage, acrylic inks and more! This class was first offered on Jeanne Oliver's creative network in 2017.
Each mini mojo class is a fully downloadable, self paced class, accompanied by notes and an FB community page should you wish to join. Kind of like buying a set of DVDs but with the extra bonus of the notes and some lovely kindred spirits along for the ride.
Content is delivered immediately upon payment and you are free to download and enjoy the lessons at your leisure.
For just $65 you will receive approx 5 hours of video (plus additional notes) covering 4 diverse lessons including a menagerie of fun little animalitos inspired by the collections in my casa! All content will be downloadable and yours to keep forever!! This is a great continuation if you wish to expand on my Animalitos Class!
My greatest wish as a teacher is to act as a catalyst for you to be inspired to open to your own creative flow, to be an inspiration instigator and help you to move through the world with an attitude of curiosity and wonder.
I often explore brand new territory (for me) in my videos and I love to share my own struggles and imperfect moments during the creative process!
My students often tell me that being able to share with me in these vulnerable moments really helps them to move forward and to know that it is OK to make messes and monstrosities when we are learning NEW things and yes EVEN when we are well along the artists path!!
"We do not grow absolutely, chronologically. We grow sometimes in one dimension, and not in another; unevenly. We grow partially. We are relative. We are mature in one realm, childish in another. The past, present, and future mingle and pull us backward, forward, or fix us in the present. We are made up of layers, cells, constellations."
— Anais Nin
Example student work

By Helen Kaminsky